All gigs after 19th June 2009 are on our Gigs Blog
This is an archive of gigs for 2009 before June 19th.
Please note that our name is not spelt with two separate words Donkey Box. This will be corrected very soon in all our marketing.
19th June 2009 - Rock & Curry Fest - Part Duex @ Luna Lounge, Leytonstone, London
Continuing on the gorgeous curry and rock fest of last time, The Incisors, DonkeyBox and Triple Bind were binded again by their mutual love of ROCK.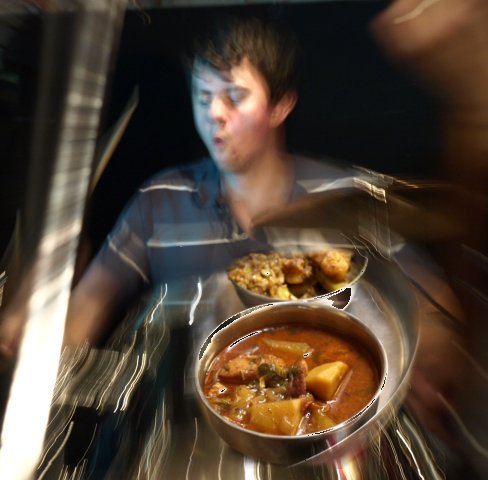 8th May 2009 - Rock & Curry Fest @ Luna Lounge, Leytonstone, London
This gig was truly unique in our history because of the following simple facts:
Our longest set ever (almost an hour!)
FREE entry to the gig
In the basement of a cool curry lounge restaurant

The atmosphere was totally ecstatic in this gig, with The Incicors and Triple Bind lining up to play a combined free entry gig together, there was a lot of love in the air and everyone was really happy to be at the local gig in East London. Hopefully we can have a few more of these great gigs.
16th April 2009 - Bar Rumba, Picaddily Circus, London
A chilling and surreal gig.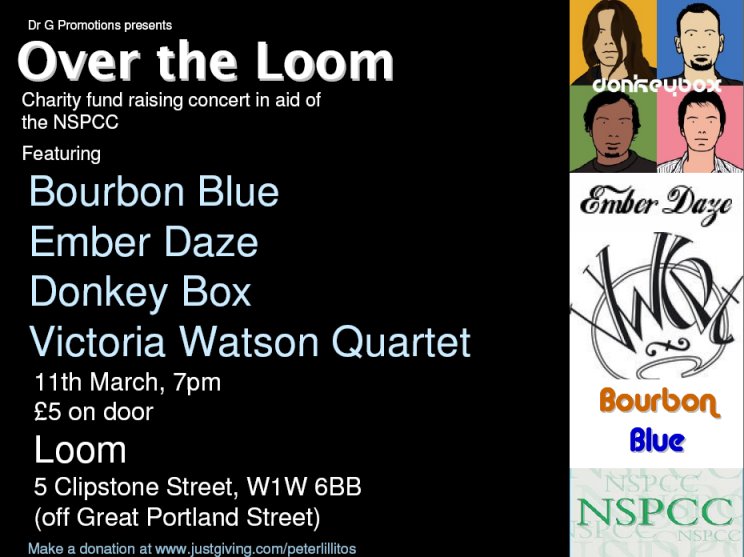 11th March 2009 - Loom, Goodge Street, London
Bourbon Blue, Ember Daze, Victoria Watson Quartet and DonkeyBox came together for this *one off* gig for the first time in over 4 years! They ran an intense campaign for charity to raise £500 on the night for a childrens charity NSPCC.
The gig was quite simply phenomenal, with over 150 people at the venue, we raised more than £1000, double the target. Everyone in the audience knew each other as the bands were all interlinked. The atmosphere was friendly and the music was pounding, fresh and energetic.
~Atul~
23rd January 2009 - The Tower Tavern, Goodge Street, London
That was one hell of a gig. I can say one thing very safely about it...it was the tightest set we have *ever* played. The reason is very simple....Martin on bass. He's now been with us over three months and in that very short time he's machine bass skills like have magnetically glued the band sound!
And we launched our brand new song "Deep Blue Sea", Greg wanted a quick rehearsal of it during sound check and we bravely rehearsed our weakest song at the most demanding moment of the night....and we *just just* somewhat shakily and nervously pulled it off. I am not so nervous at gigs normally anymore but because of this new song we were crapping our pants! So it was so good when we cleanly pulled it off. We had a great time at the venue. We love doing this love rock sh*t so watch this space until our next gig ;-)
~Atul~