28th November 2008 - The Tower Tavern, Goodge Street, London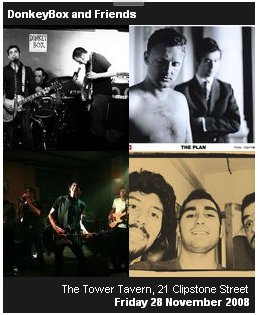 This is the first time DonkeyBox arranged a gig with other friend bands and it turned out to be quite a blast. With just one rehearsal after everyone's long holiday breaks we were back on form! Martin was playing just his second gig with us and took on backing vocals duties with glory.
We've normally always gigged solo and fit in randomly with other acts usually. This time we teamed up with The Incisors and a young band Nitrogen Narcosis. The only other band on the night were Great Western Pilots who both The Incisors and DonkeyBox have seen before. This remarkable coincidence meant that all bands on the night knew each other in one way or another! This could only mean for a great night of live rock and we should be gigging again together no doubt.
8th October 2008 - The Dry Bar, Barbican, London
A seminal gig for us this was. We prepared for this gig pretty solidly practicing every week while we welcomed bass player Martin on to the ship. The gig went down a stormer and we had kept our fantastic edge and had bounced back with a new line up in record time. Not many people turned up there but as always the ones who turned up will never forget the show and the experience.
6th September 2008 - 333 Motherbar, Old Street, London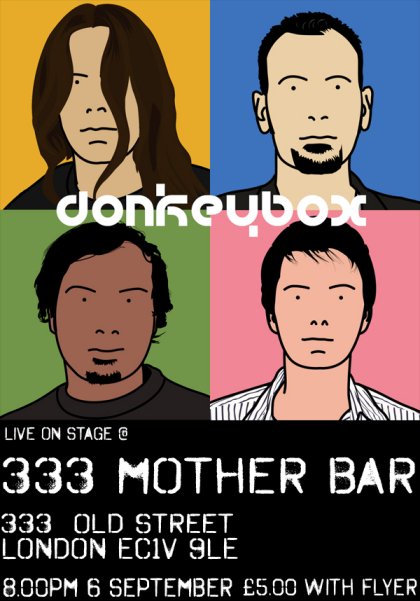 The last gig we were to play with bassist Marc Shackman and it was his show without a shadow of a doubt. It was also the very first time we played at the trendy 333 motherbar at Old Street London. Only two bands played on the night with DonkeyBox headlining.
A special treat was Marc's cover version of the Chili Peppers song "Pea" and we had quite a crowd singing along to that song. We concluded with our killer last song "The Score".
26th August 2008 - The Comedy, Leicester Square London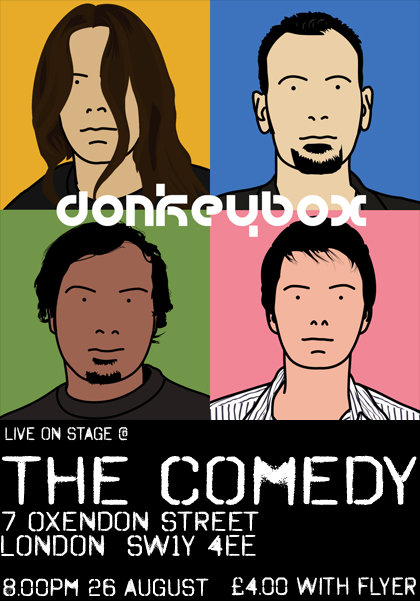 This gig was marked by an extra bit of publicity thanks to the design of a cracking flyer by bassist Marc Shackman, who also officially announced his departure from the band on this show.
The colourful flyer had been designed in the style of the Blur album. As for the gig itself, there were only 3 bands playing at this gig and one of the other bands was a college band giving this gig a high Imperial presence as we met up with some old friends.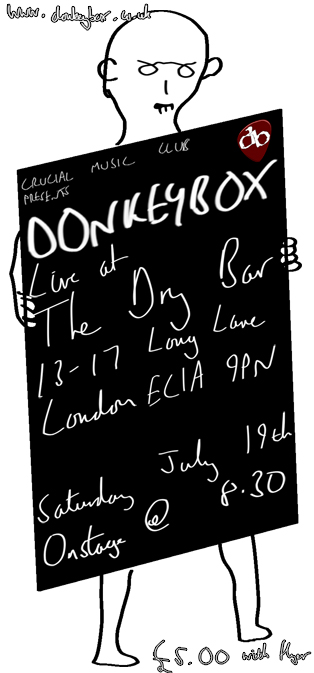 19th July 2008 - The Dry Bar, Barbican, London
This gig will forever go down in DonkeyBox's history as the gig that set us free, it was our most energy filled set performed to date ever. We jumped around the stage and were so relaxed it was unbelievable! As musicians we tend to concentrate on getting the music right, but after 6 years playing live we know our songs so well that we are set free from musical perfection :-)
We finished off our set with "The Score" and many in the audience remarked that that particular performance was the best they had ever seen. This was because it was beyond a shadow of a doubt our best gig ever.
17th June 2008 - The Comedy, Leicester Square, London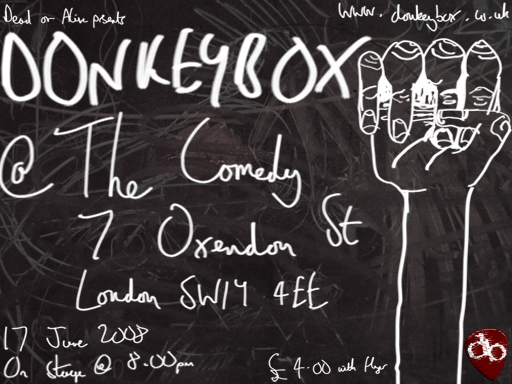 We were back at The Comedy for our third gig and it did not dissapoint by any means.
We tested out something that we have never done at this gig before in the history of DonkeyBox's entire existence. We went into a gig without a full band practice. The last time the band met together was at the last gig at The Dry Bar! Yes that's right, for this gig we just turned up, plugged in and played....played to our and your heart's content :-)
22nd May 2008 - The Dry Bar, Barbican, London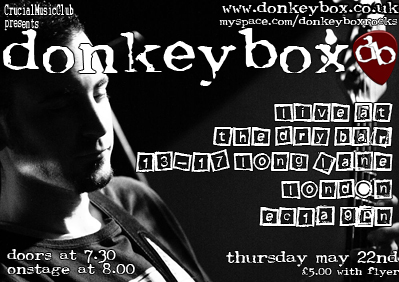 This gig was a true landmark for us, it represented a marked lift in the way we perform live. We were on fire in this gig, no doubt it and this time we were not half shy to share it with the audience.
We were alive on stage and ripped through our set song by song. The Moment is now a fully matured tune and has had plenty of great feedback. It was good to see you all there, muchos thanks!
18th April 2008 - The Dry Bar, Barbican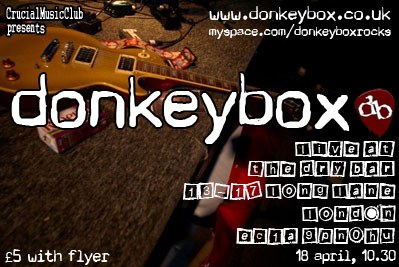 "I don't really remember much of the gig to be honest... was WAY too drunk..." was what one of the bandmembers quoted the next day on email, and this sums it up!
Apologies to those who had to leave early and many many thanks to those who stayed on and supported us, a testament to your hardcore support! This was one of our best planned gigs that went more and more out of plan as the night approached. First off it was supposed to be at Leonards, the venue went bust and then we got rescheduled to The Dry Bar for 10.30pm. Two extra bands got added on to the bill so we went on stage at 11.45pm extremely drunk. It was all filmed on live video to be available on our youtube soon, for your viewing pleasure only.
22nd March 2008 - The Dry Bar, Farringdon, London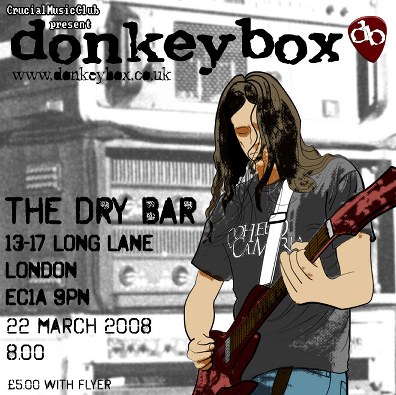 While the Purple Turtle gig was followed by an earthquake, our Dry Bar gig was followed by beautiful snowfall in your own London town. On the easter weekend Saturday, we launched a brand *new* song called The Moment. For the first time in three years we also re-ordered our set list completely, opening with the T2/Set Me Free combo.
Not only that.....but it was all filmed in glorius video for your pleasure. We will be releasing "The Moment" live at The Dry Bar very very shortly, keep your eyes peeled for that moment.
25th February 2008 - The Purple Turtle, Camden, London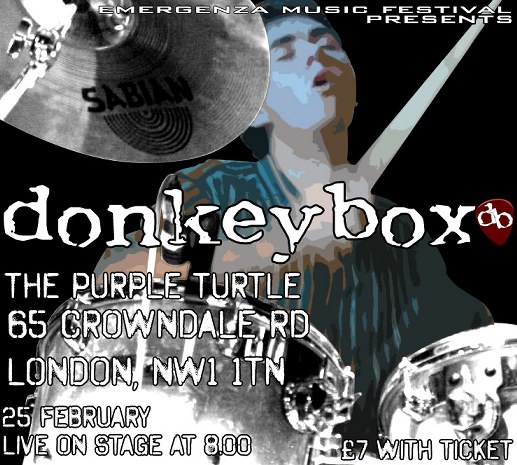 Apparently there was an earthquake at 1am a few hours after our gig the UK.... and we reckon that the start of it can be traced back to 8.30pm on Monday at the Purple Turtle when your favourite London based rock band took to the stage :-) As usual, we absolutely blew the doors off the place with one of the most energetic sets we have played to date. From the initial ear-bleeding drum beats of the Terminator theme (our signature cover!) to the final window-shattering notes of The Score we were on FIRE!
We owe a huge debt of gratitude to all of our amazing fans who turned up to show us their support - you make the band more than we do!
10th January 2008 - The Dry Bar, Farringdon, London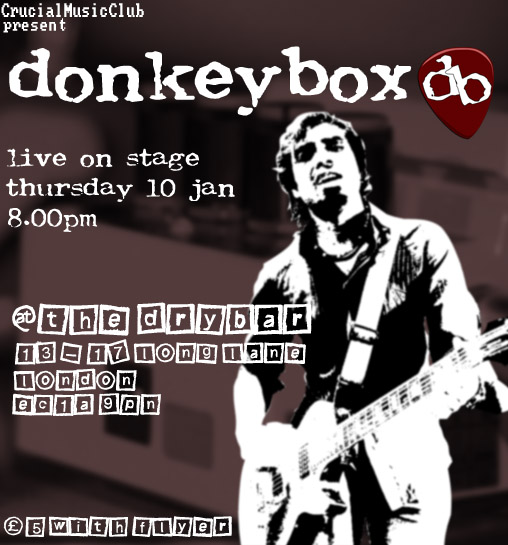 DonkeyBox are now an unstoppable machine and this gig was living proof of that. This gig was originally scheduled at Leonards but due to a bereavement tragedy it got cancelled, but were we going to be phased by this?, hell no, never! So we negotiated a last minute slot at The Dry Bar.
This gig was amazing, we had the largest audience of the night and everyone was attentive to our set like glue, they sang along to Set Me Free and Crap Day. The Dry Bar, we love you!